A warm Welcome of bygone charm and traditional hospitality welcomes you. If you are looking for Self-accommodation, a short break away or retreat, or to experience one of our Great Day's Out & Diversifying Workshops (not currently working due Covid-19) – The Red Gates has something for everyone.

Set in 20 acres of peaceful and spectacular landscape overlooking the Burren and Lake Atedaun it is the perfect venue to explore the West Coast of Ireland and the Burren National Park. The region and the Burren is often referred to as the "lungs of Europe" with its breathtakingly beauty and air that is so pure.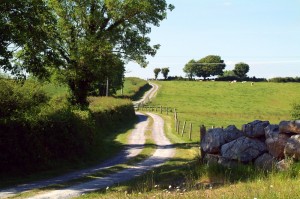 The Red Gates offers a variety accommodation and facilities to cater for individuals, couples, families and groups. Our accommodation is set in two tastefully and thoughtfully refurbished properties on site and one property off site, Peggy's house (located 3 minutes off site), The Old Cowshed and The Old Dairy perfect for stepping away from everyday demands.
The properties can be booked individually or as a group booking.